GIFT CERTIFICATE
A UNIQUE GIFT THAT WILL ALWAYS BE USEFUL & EXCITING
The benefits of a massage or facial only last a few days; an image consultant gift voucher for a colour and/or style consultation will last forever.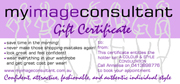 Personal Stylist Sydney
My Image Consultant, as your personal stylist can help you 'get ready' through services that help you to develop your own personal style. Your style is as individual as you are and through wearing the right colours and styles My Image Consultant can help you become more:
Attractive – appealing to others: wearing the right colours and styles greatly enhances your image and your appeal.
Effective – wear clothes that are appropriate and that support your image and the achievement of your goals
Authentic – with the right image the outer self is a true reflection of the inner self.
Confident - the knowledge of what looks best on you gives you confidence. You feel better about yourself and carry yourself better.
Current – an up to date image but not a slave to short term fashion fads
Read more about Personal Image Consultations and Prices
Why you should use Annalisa Armitage AICI CIP as your Image Consultant or Personal Stylist.
Annalisa is fabulous at making her clients feel comfortable and at ease. It is not only a learning experience. With Annalisa it's a fun day out.
Even though Annalisa possesses a keen innate eye for style and detail, and a passion for all things aesthetic, she does not rely heavily on her subjective opinion, she will use many objective measures to ensure you are wearing the right clothes for you.
Annalisa always takes into account your own personal preferences and feelings, she won't make you wear things you are not comfortable in.
Annalisa will work within your budget, and help you find clothes that you can afford.
Annalisa does not receive any commission from any retailer, if she is offered a commission she will pass this on to you in the form of a discount. Many Personal Shoppers will take you to the shops that offer them the best incentives and this adds a bias to their advice. You need someone to give you totally unbiased advice, otherwise you would just ask the shop assistant.
Annalisa will teach you to shop for yourself, and provide you with guides on how to do so, if this is what you want.
Annalisa will not focus on the latest fads, and if she recommends a trendy item to you, she will give you an idea on how long that item will be fashionable for.
As a member of AICI Annalisa has chosen to abide by the strict Code Of Ethics, which in turn gives you confidence that what we say on this website is true and accurate and that she will always act in a professional manner in all her dealings.
Annalisa was recently featured on Channel 7's Today Tonight with Sally Obermeder, talking about Brazillian Butt Lift Jeans
SOME LOVELY Comments from OUR FABULOUS clients
Even though I was a little anxious at first, I really had a wonderful time. I think staying at one department store was the best use of our time and gave us a lot of brands to choose from. Your advice on fit really showed me how to get the best from my body and colour doesn't scare me any more. As our shopping trip was for predominately work clothes, I've now added some casual 'bottoms' as suggested to complete my winter wardrobe - denim skirt, opaque stockings, chocolate brown leggings (took me ages to find - Noni B of all places!) and custom made jeans should arrive next week.
I originally thought I'd be referring to the photos you took of my outfits frequently while I got use to the coloured items. But, knowing that all the colours compliment each other just makes getting dressed so easy!
My family and friends have given me loads of compliments and using your fantastic advice has made my recent shopping trips a pleasure knowing what to look for then quickly and confidently disregarding those that don't meet my requirements. I have and will continue to recommend you to anyone who asks. So don't be surprised to hear from me again in preparation for summer!
Cheers and thanks again,
Lyndal.
(Lyndal had a personal shopping and wardrobe consultation with Annalisa in June 2011)
"Thanks for a great day. I could not wait to go to work today!!! Wearing the "brick" singlet & realised it is a colour that I love. My one caramel Thurley shirt was worn by a newsreader this morning!!!
Looking forward to meeting again soon.
Kind Regards
Gillian"
(Gillian had a personal shopping experience with Annalisa in March 2012)
Hi Annalisa,
"Thanks soooo much for your perseverance & energy... it was (correction) you are "a delight ".
Your photos are a terrific reference for me ... when i was packing to come up to Singapore I had to try and remember the outfits... not so easy when we went through so many . anyway did my best to pack lighter (which i did by several kilos)!"
cheers & speak to you soon,
Kerwayne Apr 2011
"PS the interesting thing about having gone through the photos / wardrobe is that it becomes pretty obvious what works and what is okay but not terrific. So, as you said, why would you wear a look that is okay if you can do better. Obviously I should have called you earlier and saved myself a small fortune."
Hi Annalisa,
"First let me thank you for the most amazing enriching relevant personal experience I have ever had!! My head is swimming with all the information and I cannot wait to sit down this weekend and sort out the book and my wardrobe! Today I wore my hair up and tried the makeup thing. Felt great. All that you presented feels attainable, not like some fancy recipe you love to look at but know you will never actually cook.
I love that I can now develop a vocabulary for style and present myself in a much better way than I have been. Thank you for not being judgemental at all, I felt like I had known you for years and we were just having a girly day. Yep, you are good at what you do."
Coral hired My Image Consultant as her personal stylist, for a makeover in Jan 2010
"Thanks to Annalisa, I now understand my colours and what style and shape to look out for, I feel great in my own skin and more confident spending money on good quality clothes! Absolutely recommended to all! (people looking for an image consultant) "
Leanne Johnstone hired My Image Consultant as her personal stylist in Nov 07
Watch My Image Consultants
new TV Ad press play
"I had a great time on Friday, thanks so much. You are a lot of fun and clearly enjoy and are very good at what you do. You have very much opened my eyes to what is possible and I can't wait to hit the shops
Laura Russo hired My image Consultant as her personal stylist in
Jan 08
Annalisa is professional, knowledgeable, friendly, sincere and a great ambassador for the (image consultant) industry."
Allison Payne hired My Image Consultant as her Personal Stylist in Dec 07
Hi Annalisa,
It was an absolutely fantastic day on Saturday, and the more I think about my new colours and styles the more confident and cosmopolitan I begin to feel. Even my husband - the King of Cynics - was agreeably surprised when I put a teal green cardigan against my face.
Thanks for all the shopping tips. I can't wait to put them into action, and it would be great to catch up with you for coffee.
I have done a preliminary wardrobe purge and feel quite virtuous. Do you know anyone who would like some black clothes!!??? ... there's a big pile waiting for one of my friends to go through.... I've also used my teal eyeshadow and put on a pair of my daughter's dangly earrings. How revolutionary is that!
All very exciting, and quite liberating I think.
All the best, and thanks again for Saturday,
Rosemary hired My Image Consultant as her personal stylist, for a makeover in Jan 2010

Annalisa,
"Thanks again for all your help, i appreciate all the time and effort, and i had a lot of fun. I think the process was precise and effective with efficiency."
K.N.Hired My Image Consultant as her fashion stylist in Sep 09
Hi Annalisa,
It feels great wearing the new clothes… I'm surprised about how much of a pick-me-up it has been. There's not a single item that I regret buying so I think that's a huge win!
I will be keen for another shop sometime in the near future, I just need to get some of the US trip expenses out of the way first. I also really need sunglasses, are you able to help with that?
Thanks again,
Jason hired my image consultant as his personal stylist in Sep 09.
Hi Annalisa,
" I've been meaning to write you and thank you for ages. I really want to thank you again for all of your help and for spending extra time with me so I could get a great start to a new wardrobe. I really appreciate it.
I feel so much better getting dressed now. Rather than struggling to find something to wear, I now actually have a choice, and it's a great one - thanks to you.
Thanks very much for sending through the photos, it really is amazing how much better I look with the makeup you did. Andrew (husband) thinks my new look is very good, he is happy that I am happy and he thinks I look great.
Thanks again, and have a great weekend!"
Kind regards,
Larissa hired My Image Consultant as her personal stylist in Jul 2010.
Hi Annalisa,
"Many thanks again for your assistance. The booklet you provided me makes very good bedside reading and my people watching has taken on a new perspective - I have been really looking at the way people create illusions via the use of styling."
Kind Regards,
Davina hired My Image Consultant as her fashion stylist in Aug 2010.
Click here to read some more lovely comments from our fabulous clients